Enterprise Satellite Services
As an accredited partner of Inmarsat, E3X Global is proud to boast the widest portfolio of global voice, broadband, M2M and value-added services for enterprise. Our solutions take into account a variety of requirements, including mobile satellite communications, vehicular-mounted communications, portable voice and broadband communications, as well as fixed satellite communications.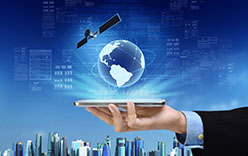 With the multitude of applications offered, E3X Global helps bridge the communication gap between urban and rural using Inmarsat's global network. We currently service enterprises ranging from NGOs, government organizations, and rural business units of large enterprises.
By providing custom solutions to best suit your enterprise communication requirements, we have empowered businesses to grow and reach beyond the boundaries of standard mobile and wired infrastructure. For more information on how we can help transform and evolve your business to new heights, reach us on the Contact Us page.
GX for Enterprise
Global Xpress provides reliable, high-speed connectivity for your organisation, no matter where in the world it is.
Designed to provide a consistent user experience, from the equipment used at a remote location to the service delivered through the pioneering satellite and ground network, Global Xpress is the complete high-speed broadband solution.
IsatPhone 2
Designed to work with the most reliable satellite communications network in the world.
IsatPhone 2 is the latest addition to our handheld satellite phone portfolio, offering a range of new features to ensure you stay connected in even the most extreme and remote locations.
BGAN M2M
A reliable, global, two-way IP data service designed for long-term machine-to-machine management of fixed and mobile assets.
Connects monitoring and control applications in remote, unmanned locations, giving you full visibility and management of your dispersed assets across an entire operational area.
IsatM2M
Global, store-and-forward low data rate messaging to and from remote assets for tracking, monitoring and control operations.
IsatM2M supports critical applications such as transport vehicle security, industrial equipment monitoring and marine tracking, giving companies visibility and control of fixed or mobile assets.
IsatData Pro
A global two-way short message service for machine-to-machine (M2M) communication.
Enables companies to track and monitor their fixed or mobile assets, giving them increased visibility of business operations, enhanced efficiency, and greater safety and security for their assets, cargo and drivers – while lowering operational costs.
BGAN Link
A broadband data service for users who require high monthly volumes of always-on Standard IP data for sustained periods of operation.
BGAN Link enables companies working in remote areas to quickly set up a remote office and gain instant access to standard workplace tools, such as email, web browsing and VPN.
MARITIME SATELLITE SERVICES
Our satellite communication services actually take account of servicing shipping vessel fleets for all sat com needs. Hence, we currently provide services to numerous different clients, including large oil tanker corporations
Effective communication is the cornerstone of most daily government activity, and powerful, reliable communication equipment can make a critical difference. Today more than ever, secure communications matter; whether for maintaining homeland security
E3X has partnered with Iridium Communications Inc. which is a satellite communications company that offers truly global voice and data communications coverage. A technology innovator and market leader, Iridium, in collaboration with its vast partner network