Maritime Satellite Services
Our satellite communication services actually take account of servicing shipping vessel fleets for all sat com needs. Hence, we currently provide services to numerous different clients, including large oil tanker corporations, government organizations, leading bulk and container carriers, tugs and other specialized work boats, and even military crafts.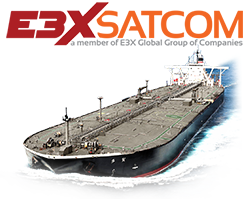 As an accredited partner of Inmarsat, we provide a comprehensive list of maritime applications, with communications based on Inmarsat's expansive global coverage. We have maritime solutions that include global communication, distress, fleet broadband, crew welfare, satellite mobile phone service, and GPS tracking.
So if you want to explore our services and discover the best solution that you exactly need, please feel free to read on. You can immediately contact us if you need our help and expect for a timely response from our professional customer support team!
ENTERPRISE SATELLITE SERVICES
As an accredited partner of Inmarsat, E3X Global is proud to boast the widest portfolio of global voice, broadband, M2M and value-added services for enterprise. Our solutions take into account a variety of requirements, including mobile satellite communications
Effective communication is the cornerstone of most daily government activity, and powerful, reliable communication equipment can make a critical difference. Today more than ever, secure communications matter; whether for maintaining homeland security, protecting privacy or just keeping competitors' prying eyes at bay.
E3X has partnered with Iridium Communications Inc. which is a satellite communications company that offers truly global voice and data communications coverage. A technology innovator and market leader, Iridium, in collaboration with its vast partner network